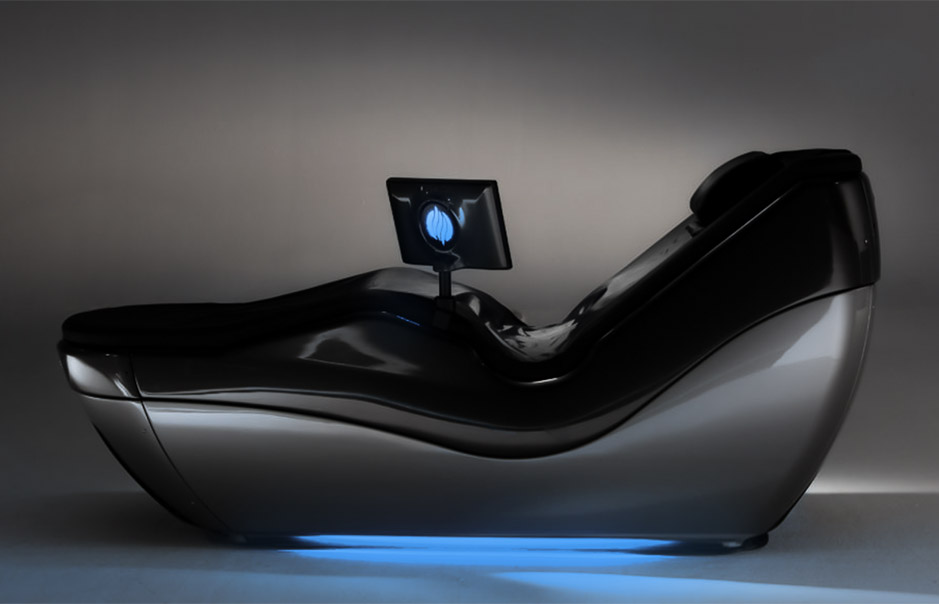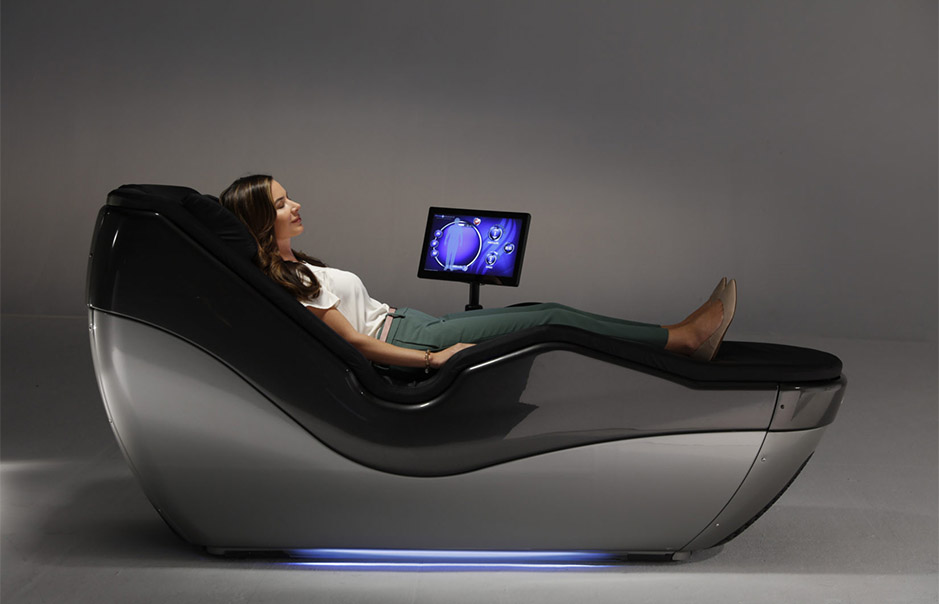 HydroMassage Lounge 440X
After 30 years of innovation, we've developed our most comfortable, durable lounge yet: the HydroMassage Lounge 440X. New in 2019, this addition to our collection provides a smoother, more focused massage than previous models as well as upgraded features to maximize your experience. Let us introduce you.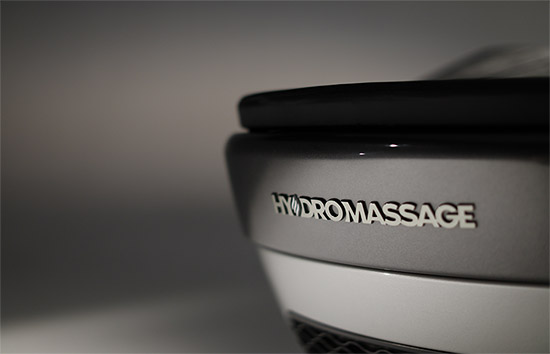 Premium Finish - The Lounge 440X has a contemporary design, featuring smooth panel transitions and a sleek color scheme using Obsidian Black and Atomic Silver.
Clean Cover - WipeClean Waterproof Massage Cover engineered for a tight, clean look with minimal collection points.
LED Lighting - Contoured side panels illuminated with custom options for LED under-glow lighting are designed to fit your unique color scheme and brand identity.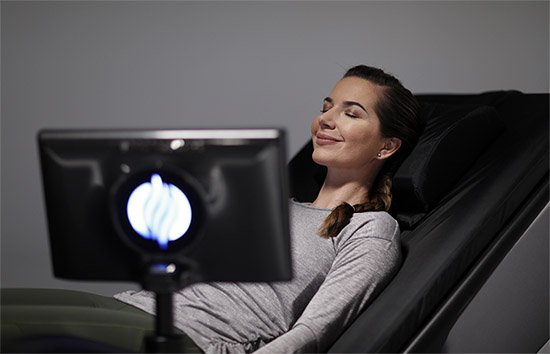 Massage Experience - Engineered for maximum performance with a smoother, more-focused massage and 7" (18cm) more massage coverage.
User Comfort - Ergonomic design maximizes user relaxation in the ideal seating position throughout the massage.
40% Less Water - Redesigned to operate with only 12 gallons (45L) of water, compared to 20+ gallons (76L)in previous models.
Life Tested - The frame and tank design has been life tested with a 300-pound (136kg) test dummy for more than one million massage cycles, simulating 50+ years of usage without any impact to structural integrity.
User Analytics - New touchscreen reporting platform provides various analytical reports providing insight into usage data and massage setting preferences.
Smart Innovation - A wide range of other mechanical improvements has increased performance and durability in the newest model.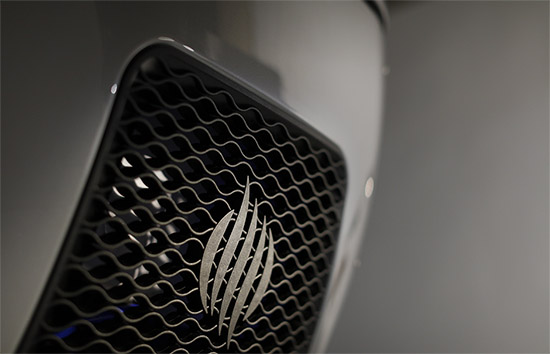 Stays Clean - Proprietary design keeps water clean in between annual maintenance.
Worry-Free Protection - Water-safety containment system holds 100% of the water in the event of any minor drip or leak.
Technician-Friendly Design - Ease of access during installation and minimal alignment required during service.
- Proactive maintenance alerts sent to HydroMassage Tech Support including water temperature, water level, and pump-seal integrity.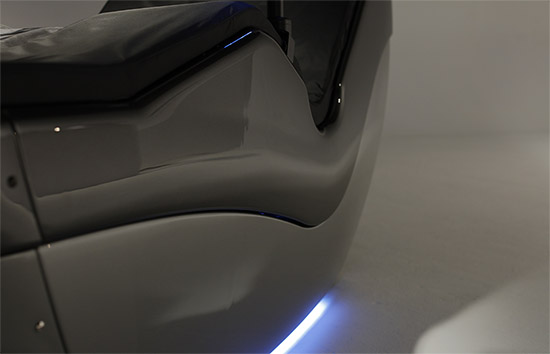 Open, Seated Design -The Lounge model is engineered for those who want to relax, but don't have the time or desire to lie down and close their eyes.
Smooth Wave Traveling Massage - Jets move up and down the body with wave-like streams of heated water, giving the user control of where to concentrate the massage.
Water Through Air Technology - The user rests comfortably above the water level, providing user stability and delivering maximum potential massage pressure.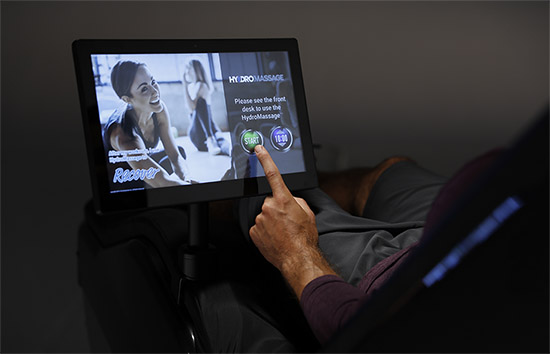 Complete Personalization -Allowing real-time adjustment, the touchscreen is the most technologically advanced water-massage interface on the market.
Social Experience - Users more commonly engage with the touchscreen, smartphone apps and others around them during the massage.
Multimedia Content Library - Users may enhance their experience with relaxation videos, music, wellness articles, games, e-books and internet access.
Preset Massage Programs -Users may create and save their own ideal massage or select from a range of pre-programmed massages.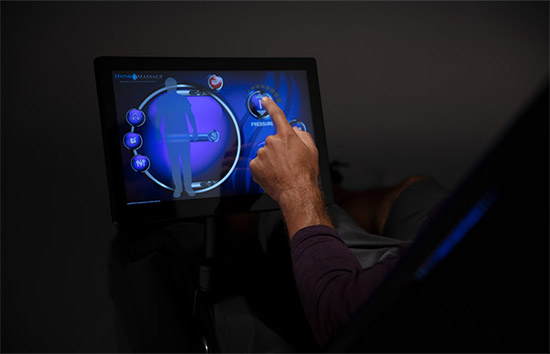 Staff Control - Proprietary HydroMassage desktop software connects directly to your front desk, giving your staff full control over activating the units.
Member Management - Your staff has the ability to set up individual user accounts with external timers, a token system and currency acceptors.
Tested and approved to UL/CSA/CE safety standards by ETL
Dimensions: 91" L (231cm) x 32" W (81 cm) x 43" H (117cm)
Weight: 285 lbs (130 kg) without water; 385 lbs (175kg) with 12 gals (45L) of distilled water
Waterproof/fluidproof user surface