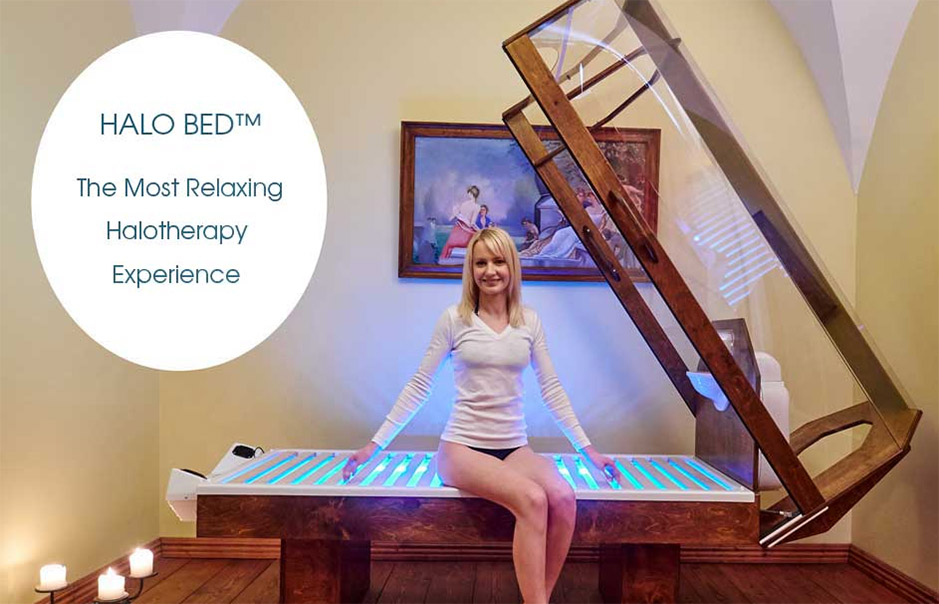 HaloBed™
The Salt Bed
The newly upgraded HaloBed™ (Salt Bed) is the leading multi-functional Dry Salt Therapy unit on the market. The HaloBed™ is an excellent solution for those who prefer privacy, want deep relaxation and/or need an extra boost of salt for skin issues such as psoriasis, eczema, and rashes.
Innovative design & functionality
The European custom made HaloBed™ provides an effective and rapid relaxation experience with it's built-in heating, colorful ambient lighting and sophisticated sound system. Plus it includes a unique partition that can isolate the head from the body to allow for a more intensified salt therapy session for severe skin conditions.
Smart business opportunity
The HaloBed™ is easy to operate and simple to maintain and offers a lucrative business opportunity with a small investment and quick return. It's a simple and safe portable unit that requires no room modifications, no contractor fees and comes fully assembled. It is the perfect add-on feature to any spa, wellness center or massage practice. Also comes with industry-leading lifetime warranty on mill, feeder and fan.
The way it works
The HaloBed™ features the upgraded, state-of-the-art HaloFX™ Halogenerator. It offers reliable and adjustable programing functionality that can be customized to suit any individuals' wellness needs. The HaloFX™ uses only pure pharmaceutical grade salt which is gently heated making it extra dry for a more efficient session. Once the salt is placed into the halogenerator it is finely crushed into microscopic particles and disbursed into the salt bed environment.
Multi-functional HaloBed™ Features
The HALO BED™ has an upgraded, sophisticated sound system that connects to most common music devices. Offering personalized play lists, guided meditations, audio books or therapeutic hypnotherapy sessions can bring added benefits to each salt therapy experience.
Partition for separation
The unique adjustable partition allows for separation of the head from the body to address skin issues, inflammation and joint problems effectively. This feature makes it possible to safely increase the concentration without burdening the lungs with excessive amounts of salt.
Heated double bottom
This sophisticated feature maintains a comfortable and soothing temperature inside the HALO BED™ throughout a session. Himalayan salt crystals can also be added to the bottom of the bed where heat stimulates the release of negative ions and enhances the quality of relaxation.
Halo Bed™ Includes:
HALO FX™ Halogenerator
Operational manual
Training of fundamentals
Operational & protocol training
Staff & customer training
Lifetime warranty on mill, feeder and fan