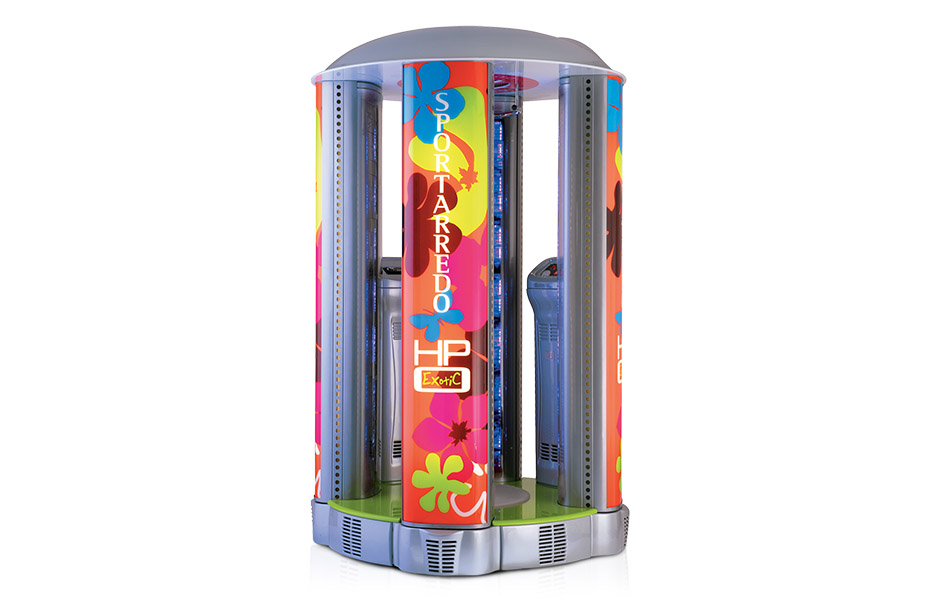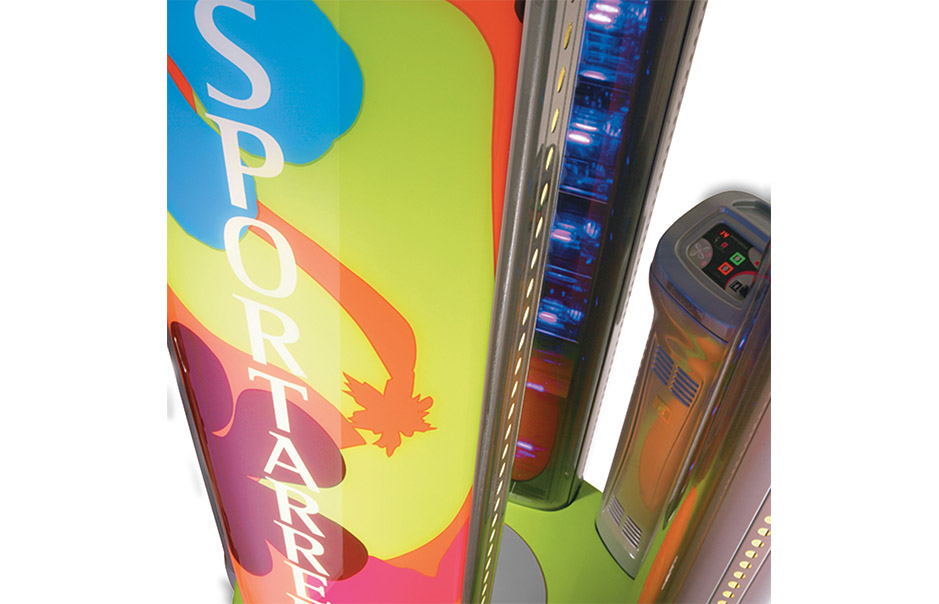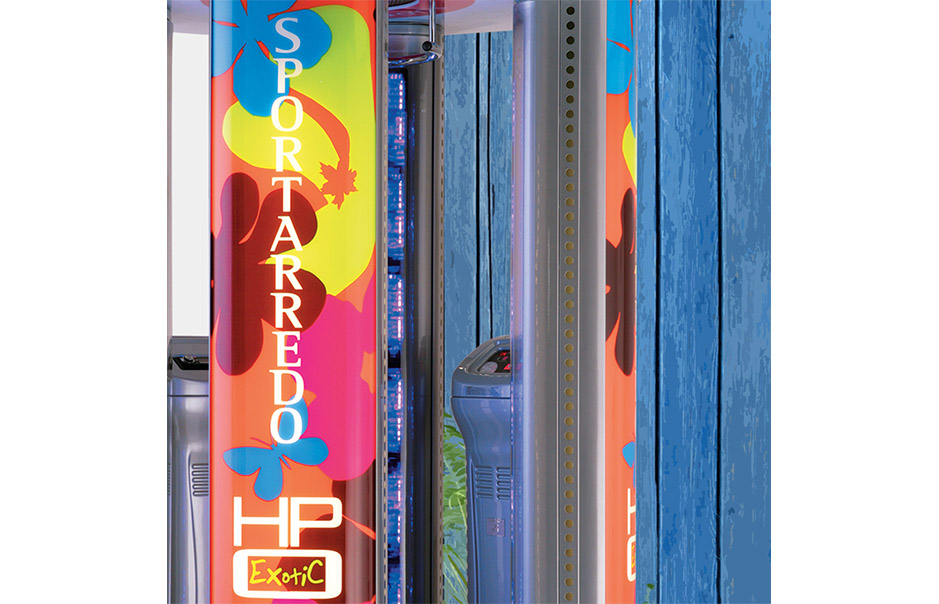 HPO Exotic
SPORTARREDO PRESENTS THE CONCEPT OF EXCLUSIVITY IN THE OPEN TAN IN HIGH PRESSURE. Thanks to an in-depth study of optics, Sportarredo has succeeded in guaranteeing inimitable performance in an open four-columned stand up. The power of the five high pressure 1500W Kalfasun lamps and the twentythree 600W lamps combined to create an efficient tanning action evenly distributed over the whole body: immediate tanning, right from the first session. Powerful, electronically adjustable ventilation, multilingual guiding voice, latest generation electronic control board, Radio/ CD/MP3 and an elegant design make this a reference for the entire category.
Radio with MP3/CD/USB
Backlit column illumination
Eye-catching Exotic colors
360° vertical High Pressure tanning
User friendly control panel
Adjustable body fan
Energy, Power & Tanning
Low Pressure Lamps - The 32 low pressure 100W Kalfasun lamps, low consumption levels and compact dimensions are a perfect synthesis of quality and cost-effectiveness.
Air Flow, Cooling & Sensory
Body Ventilation - A strong ventilation system to ensure the customer receives maximum pleasure from every session like an airy day on the beach.
Manual Lift - Easy spring lift canopy.
Audio System
Integrated Audio System - Allows clients to enjoy their session to the fullest while listening to the quality sound from the integrated audio system with radio and mp3.
Equipment Control Centers
Electronic Control - T-Max control system integrated into the advanced electronic control board gives the user an in-depth control of their tanning comforts and connects to existing salon managers with ease.
Sportarredo Quality Guaranteed
Sportarredo solariums combine the pleasure of tanning with excellent performance that lasts over time: choose the solution that best meets your needs between a lay down, stand up or facial unit and automatically benefit from the warranty extension up to 3 years or 1,500 working hours.
PRODUCT DIMENSIONS - 63" x 59" x 98"
NUMBER OF LAMPS - 28
POWER - Three Phase (available in single phase at 125amp)
RECOMMENDED ROOM SIZE - 8'6" x 8'6"
WEIGHT - 1,400 lbs
AMPERAGE - 80 amps (available in single phase at 125amp)
EXPOSURE TIME - 14 Minutes
VOLTAGE - 3 phase, 230 volt, 80 amp; available in single phase at 125 amp
CANOPY - 5 1530w (front of body)
COLUMN (FRONT OF BODY) - 5 1530w (front of body)
COLUMN (REST OF BODY) - 23 630w (rest of body)